Passion Fruit Cheesecake Gelee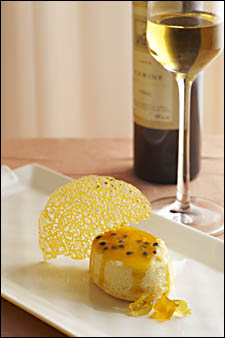 Pairing: Fruit Cheesecake Gelee / Inniskillin Vidal Icewine, Canada
Abstract: A tropical cheesecake pairs well with this terrific icewine from the Niagara Peninsula. Golden in color with flavors of mango and peach, it has delicate nectar. The creaminess of the dessert, along with the tartness of the passion fruit will balance with the natural sweetness of this top Canadian wine. Heavenly.
Yield: one (nine inch) cheesecake.
Photo by Ellen Callaway
Components
Graham Cracker Crust
Cheesecake
Gelee


Graham Cracker Crust
1-1/2 cups graham cracker, @ 5 ounces crushed or pulverized in a food prcocessor.
3 ounces butter, unsalted and melted
1 Tablespoon sugar
Pinch of salt
1/4 teaspoon cinnamon
1/8 teaspoon ginger
Mix all ingredients together and fit into the bottom of a nine inch springform cake pan. Bake at 350 degrees for 7-8 minutes. Cool.
Cheesecake
2 pounds cream cheese, room temperature
1-1/4 cup sugar
2 Tablespoons flour
pinch of salt
3/4 cup passion fruit juice
2 teaspoons vanilla extract
3 eggs
1 cup sour cream
In medium saucepot, melt first three ingredients.
Remove from heat, add flour.
Transfer to mixer fitted with paddle, and combine thoroughly.
Rest for 20 minutes.
Batter can be made one day ahead.
Preheat oven to 350 degrees.
Weigh 1/2 ounce of batter and roll into ball. Place on silpat and flatten with palm of your hand.
Bake at 350 degrees for 5 minutes or until golden in color.
Mold over bottoms of 1/2 cup ramekins or cordial glass.
Cassis Sorbet
1 Tablespoon Rote Grütze Tea
3/4 cup simple syrup
2 cups cassis puree
1/4 cup Crème de Cassis
Preheat oven to 325 degrees.
In a mixer fitted with paddle attachment, beat cream cheese with sugar.
Add flour and salt.
Add passion fruit juice and vanilla extract.
Add eggs.
Add sour cream. Do not overbeat.
Wrap outside of springform pan with foil.
Place filling into prepared crust and then place springform pan into a larger baking pan.
Carefully pour hot, not boiling, water to come halfway up sides.
Bake for one hour in hot water bath. When cool, refrigerate before making gelee.
Gelee
1-1/2 gelatin sheets
1/4 cup water
1/4 cup sugar
2 passion fruit, pulp and seeds
1/2 cup passion fruit puree
Soak gelatin sheets in cold water for minutes.
Dissolve gelatin over double boiler.
In a small saucepan, heat rest of ingredients until sugar has dissolved.
Remove from heat and add melted gelatin. Stir.
Spoon over cheesecake.
Other Suggested Pairings:
Kracher Trockenbeerenauslese No. 4, Burgenland, Austria
Pillitteri Estates Winery Vidal Icewine, Niagara Peninsula, Ontario, Canada