Honey Custard "Brûlée", Dried Fruit Compote, Goat Cheese Crema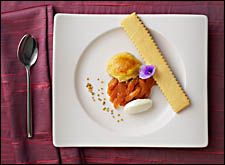 Pairing: Honey Custard "Brûlée", Dried Fruit Compote, Goat Cheese Crema / Château Coutet, Barsac, France
Abstract: Clover honey custard is caramelized with turbinado sugar and is an excellent pairing with this Premier 1st Cru Sauternes. Medium gold in color with a honeysuckle and pineapple nose, lush mouthfeel, this is impressive. The velvety custard balances the richness of the Sauternes and the dried fruits consisting of apricots, white peaches, and pears mimic the flavors in the wine.
Yield: 10 servings
Photo by Ellen Callaway
Components
Honey Custard
Compote
Goat cheese crema
Honey Custard "Brûlée"
1 pint heavy cream
3/4 cup orange blossom honey
5 egg yolks
1 whole egg
Pinch of salt
1 teaspoon vanilla extract
Make infusion with cream and honey. Allow to steep for 20 minutes.
Whisk lightly yolks, egg, and pinch of salt.
Reheat infusion. Temper into yolk mixture, adding honeyed cream slowly and stirring figure eight motion.
Strain through chinois or fine mesh strainer.
Add vanilla extract.
Ladle into 1/2 cup ramekins or brûlée dishes lightly greased.
Bake at 325 degrees in hot water bath @ 35-40 minutes or until edges firm but middle of custard still soft. Cool to room temperature. Refrigerate.
Dried Fruit Compote
4 ounces dried apricots, julienne
4 ounces dried white nectarines or peaches, julienne
4 ounces dried pears, julienne
2 cups water
1/4 cup Sauternes
1/4 cup sugar
1 Tablespoon lemon juice
1/2 vanilla bean, sliced and scraped
Zest from one small orange
Blanch dried fruit in boiling water for 4 -5 minutes. Drain.
Make syrup with water, wine, sugar, lemon juice, vanilla bean, and orange zest.
When sugar has dissolved, add dried fruit and simmer until soft @ 35 - 40 minutes.
When cool, remove vanilla bean pod.
Goat Cheese Crema
1/2 cup heavy cream
4 ounces goat cheese, room temperature
Whisk cream to soft peaks.
Soften goat cheese in stainless steel bowl with spatula.
Fold cream into cheese to lighten.
Assembly: Place small amount, @ 2 Tablespoons of dried fruit compote on plate. Scoop out one half of the honey custard from individual ramekin and place next to compote. Sprinkle custard with turbinado sugar and with mini blow torch, caramelize top. Quenelle goat cheese crema. Place between custard and dried fruit compote.
Other Suggested Pairings:
Far Niente Vineyard, Dolce, Napa Valley, CA
Tokaj Classic Winery, Tokaji Aszú, 6 Puttonyos, Mád, Hungary