Late Harvest Chardonnay
Now that we are heading into warmer weather, my favorite stone fruits are starting to appear. Apricots, white and yellow peaches, nectarines mean delicious desserts and I like to pair them with late harvest chardonnays. Chardonnay, you ask? Yes, this varietal can be made into a sweet wine and I have listed three of my favorite ones.
Take for example Steele Select Late Harvest Chardonnay, Sangiacomo Vineyard, CA. Here is a wine you definitely need to taste. The 1997 bottling has been aged eight years in French oak barrels and is medium amber in color. It looks rich in the glass with aromas of peaches, honey and hints of citrus. Flavors of candied stone fruit linger and although one only needs a small amount to drink, I found myself wanting more. Steele has only produced this late harvest style of wine three times since 1993 with some botrytis affecting the grapes. It's irresistible. With Mascarpone Semifreddo and Grilled Peaches topped with Amaretti, it is truly a luscious liaison.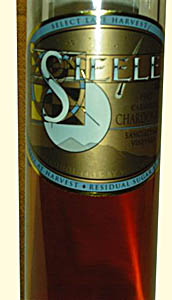 www.steelewines.com
Another Californian wine is Joy from Rombauer Vineyards in St. Helena. Rombauer Vineyards, known for their lovely buttery Chardonnay, produces a sweet wine when the grapes are affected with botrytis. The 1998 bottling is a caramel color and has a nose of orange, spice, with tastes of peaches and apricots. Appropriately named, there is enjoyment when paired with a warm Nectarine and Blackberry Cobbler, dollop of vanila bean ice cream, slowly melting into the fruit - Pure Joy!
Situated in The Hamptons on the east end of Long Island, New York is Wolffer Estate Vineyard. This Late Harvest Chardonnay is a blend of grapes: Chardonnay, Vignoles, Gewurztraminer and Trebbiano. Chardonnay is the predominate varietal and all the grapes were harvested late fall and immediately frozen. Once the grapes are pressed, there is concentrated juice. The 2006 wine is bright golden yellow in color with a clean sweet fruity nose and tastes of apricots. There is a touch of lime on the finish. This is a wine that is very well balanced and quite refreshing. It is perfect for sipping on a hot lazy summer afternoon accompanied with delicious crumbly apricot almond bars.